F-R-I-D-A-Y ~IT'S FRIDAY!!! How did this week go by so quickly? Tonight is the First Annual Awards Ceremony for my place of employment-and I am pretty stoked about it...well, in that I got a new dress, and Hubs is going to be looking quite dapper (I know this, because I was responsible for his clothing selection...excuse me while i toot my own horn for a minute...TOOT TOOT!), and I will get to see my parents all dressed up as well (for those of you who do not know, my dad and I work for the same company, but no, I do not work
for
my dad and he did NOT have any leverage for getting me the job I have now, for the record), and I can't remember the last time I saw Madukes get dressed up, and I will be in the company of some quite lovely ladies...pictures will be posted later...any how...as previously mentioned-IT'S FRIDAY so let's start
Five Question Friday!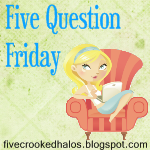 1. Do you know what your REAL hair color is?
Yes...I haven't had my hair colored since right before Christmas, so my real color color can be seen from my roots to about an inch and a half away from the roots-but again, before the judging begins, the color Margaret puts in my hair is
almost
the same color as my REAL hair color, it just has a red tint to it so there is no drastic blond/black root thing going on on my head...
2. Do you plan ahead for summer, or fly by the seat of your pants?
Um, for what would I be planning? We really only planned for the summer of 08, because that is when my Hannah made her debut-so you know, there was approximately 10 months of planning, painting, shopping (who am I kidding shopping is a year-round event), and preparing for the New Love of My Life...
I do try to workout more when i know that beach season is approaching-I don't want to embarrass my family by showing up all of my glory and no one can make eye contact with me because I look
that
bad...I never want to be
that
mom...but we really don't plan ahead for the summer other than that (if that even counts for planning ahead for the summer...)
No idea what we were in for!
So worth the wait!
Already had Hubs wrapped around her finger and she wasn't even 1 hour old yet!
3. What is your favorite meal to cook?
This is tough...I really like to "cook" anything in my crock pot- Best Invention-Hands Down! But separate from the Crock, where there is actual cooking and prep work involved, I would say it is a 3 way tie between Pot Roast with carrots, potatoes, tomatoes and celery-delicious (and can also be made in the crock if needed), Chili-I LOVE LOVE LOVE chili and cornbread-specifically Krusteez honey cornbread-if you haven't tried this stuff do it-no seriously-go to your local grocer and get some, now, you will not be disappointed- I can wait...
Welcome back, the 3rd part of the 3 way tie is Spaghetti Pie...mmmmmmmm Spaghetti is my favorite food in general, but I love the pie I make...and it is low calorie so it is diet friendly...
Recipe Below if you want to try it
Ingredients
Nonstick cooking spray
4 ounces dried spaghetti
2 egg whites, lightly beaten
1/3 cup grated Parmesan cheese
1 tablespoon olive oil
2 egg whites, lightly beaten
1 12-ounce container (1 1/4 cups) low-fat cottage cheese, drained
8 ounces uncooked ground turkey breast or 90% or higher lean ground beef
1/2 cup chopped onion
1/2 cup chopped green and/or red sweet pepper
2 cloves garlic, minced
1 8-ounce can no-salt-added tomato sauce
1-1/2 teaspoons dried Italian seasoning, crushed
1/8 teaspoon salt
1/2 cup shredded part-skim mozzarella cheese (2 ounces)
Directions
1. Preheat oven to 350 degrees F. Coat a 9-inch pie plate with nonstick cooking spray; set aside. For crust: Cook spaghetti according to package directions, except omit the cooking oil and salt. Meanwhile, in a medium bowl, stir together 2 egg whites, the Parmesan cheese, and olive oil. Drain spaghetti well; add to egg white mixture and toss to coat. Press spaghetti mixture evenly into the bottom and up the side of the prepared pie plate; set aside.2. In a small bowl, stir together 2 egg whites and drained cottage cheese. Spread the cottage cheese mixture over the crust in pie plate. Set aside.3. In a large skillet, cook turkey, mushrooms, onion, sweet pepper, and garlic until meat is browned. Drain off fat. Stir tomato sauce, Italian seasoning, and salt into meat mixture in skillet. Spoon over cottage cheese mixture in crust.4. Bake about 20 minutes or until heated through. Sprinkle with mozzarella cheese. Bake about 5 minutes more or until the cheese is melted. Let stand for 15 minutes before serving. Cut into wedges to serve. Makes 6 servings.
Nutrition Facts
Calories 256, Total Fat 7 g, Saturated Fat 3 g, Cholesterol 27 mg, Sodium 479 mg, Carbohydrate 23 g, Fiber 2 g, Protein 26 g. Daily Values: Vitamin A 0%, Vitamin C 0%, Calcium 0%, Iron 0%. Exchanges: Vegetable .5, Starch 1.5, Fat .5.
End Result=Delicious-and even Hannah loves it!
4. Do you get offended by not receiving thank yous?
Eh...no...well...sometimes...it depends on the situation. Is it something I would do normally, like hold the door open or did I go out of my way to do something? Did you ask me to do it or did I just do it willingly? I frequently go through the drive thru of Starbucks and pay for the person behind me just because everyone deserves a surprise...do I expect a thank you-no, but I love the rush I get knowing that they are getting a surprise! Now, did you ask me to do something for you and I had to stop what I was doing to help you and then when the task was complete you just walked away-I probably do expect a thank you...and when you don't say it, I will probably just yell You're Welcome! as you walk away...
5. How did you meet your best friend?
If you read one
Previous Post
of mine, you know Hubs is my Best Friend. We met at my college. The day I moved in for Sophomore year. Put your reading glasses on readers because it is STORY TIME!!! I loved college-everything about it was awesome. I was so excited to start my sophomore year because i was sans long distance relationship so I was a SINGLE LADY (please feel free to sing Single Ladies in your head-or aloud for the good of the group at this time) and ready to spend time with my friends. Well, as it turned out, my brother had a soccer tournament, out of town, the day I was moving in, and my parents decided that they needed to attend his tournament (ahem* he still lived at home-I was moving away...I see who your favorite is *ahem) instead of helping me. So off to Columbia I went-with a car loaded up to the max and no help to unload it. ( I should mention that I attended an Women's College.)
I arrived at school, checked in, and began unloading...all alone...no worries though, I work out ;) My suite mate at the time was also moving in and had a loft bed. Her boyfriend was there, helping her set up the bed, and take it down (because it was too shaky) and put it back up again, and she decided he needed help as well, so he called his friends to come help as well. Hubs, who was helping his step-sister move in-in the building adjacent to mine, came over with another one of his friends. Now, at this point, I had heard stories about both Hubs AND Hubs' friend from my suite mate but I had never actually met either of them before so I didn't know which was which...(as a side note, one of them spent hours after showering trying to ensure that his arm hair laid down correctly-yeah, you read that correctly-arm hair, this same guy also considered himself a ladies man and thought he could get any girl he wanted...) so when one of them shouted at me "So, you think you're a princess huh?" you can see why I was pretty cautious/skeptical when responding.
To help paint the picture, I had on a one shoulder white tank top, shorts, my brown glasses, and some tennis shoes. I was also wearing a studded belt that read "Princess." (Don't judge you know you had one too.) So I turned around and said "I don't think I am , I know I am" and proceeded to bring the next round of
crap
really important stuff from my car upstairs. I didn't stick around long enough to hear the response, nor did I look up to see the reaction.
On my next trip down both Hubs and friend were on the porch because they had finished putting together the loft bed (which I herd was still shaky)-and I was down to my last 2 suitcases and I was determined that this would be my last trip so i grabbed them both and headed for the stairs. Hubs approached me and asked if I needed help-I said no and proceeded to walk to the stairs rolling both suitcases...being persistent-in true Hubs fashion, he ran in front of me and told me that he was going that way anyway so he would really like to help me. I considered it...and I was tired from all of the trips up and down the stairs...so I gave him the smaller of the 2 suite cases (because I didn't want to look like a wuss) and proceeded up the stairs. By the time I got to my room the other suite case was already there and Hubs was no where to be found. (To this day when I tell this story to people and Hubs is around, I tell people he grabbed the smaller one and left me stranded with the big suitcase...he gets mad every time.)
My suite mate's BF told me Hubs thought I was cute and wanted to go out so our first date was to the Zoo on Labor Day weekend...and tomorrow 3/12/11 is our 6th Wedding Anniversary :)
My favorite picture 03/12/05
My suite mate's BF, and Hubs' friend from the above story were groomsmen in our wedding
Join in on
Five Question Friday
too!